Family Law and Divorce can be tough
Even if your divorce is amicable, it is one of the most stressful things anyone can do. If it's a contested or angry divorce, Family Law can be a nightmare. The one thing that can make it a bit easier is a no nonsense attorney.
I'll not only fights for what you need and want, but also watch out for the things that can be forgotten: the children, dependent parents, possessions and investments.
What is No-Fault Divorce in Illinois?
No-fault divorce means that neither party has to prove that someone did something wrong in order to get a divorce. Simply put: One spouse has to have lived in Illinois more than 90 days. The waiting period is final when entered "subject to a right of appeal". A No-Fault divorce is granted when the marriage has an 'irretrievable breakdown.
For all of Illinois' history, it was necessary to prove that someone broke the marital trust in order to get a divorce. The new No-Fault Laws reduce that down to simply, "It's broken and we can't fix it."
Five Things to do Before Contacting a Family Lawyer
Divorce and much of Family Law is a long, and dreadful process. It's not as easy as filing and submitting a complaint. There are a few things you should do before contacting your lawyer.
Make sure you want a divorce
     This may seem obvious, but choosing to get a divorce is emotional. You want to make your decision when you are not overly emotional. Once you get the divorce papers to your spouse, changing your mind could do nothing.
Get financial documents together
      Documentation is a huge part in divorce. Financial records, phone records, mortgages and car payments should be put together. If you and your spouse have shared files, make copies of everything.
Determine custody agreement
      If you have children, determining the custody situation is probably the first thing on your mind. Deciding who they are living with and how the shared custody will be, takes time. Discuss schedules and come up with a fair agreement.
Figure out living situations
     You have to decide who is moving out and who is staying. Figure out your living situation during and after the divorce. Keep the factors on your side with whichever you want to do.
     Divorce is messy and emotional. Having a support system that will stick by you is extremely important. Surround yourself with people who will help you through the divorce.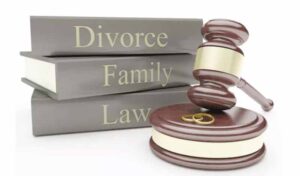 Included under Family Law:
Prenuptial Agreements
Divorce
Child Custody
Child Support
Support Modification
Visitation
Division of Property
Alimony
Business Asset Allocation
Grounds for Divorce in Illinois
Adultery
Cruelty or violence
Willful desertion for 1 year
Drug/alcohol addiction for 2 years
Impotency
Unexplained absence
Conviction of a crime
Venereal disease
Two year separation by irreconcilable differences
Undissolved prior marriage
Attempted murder of a spouse